Yes folks, Yarndale is alive and kicking and coming to an internet connection near you!
Things being how they are, with the pandemic and all, organisers decided to forgo the usual awesome live show and host an equally awesome online one instead. So this year, on the weekend of the 26th & 27th of September - THIS WEEKEND - you can check out
yarndale@home
and shop till you.... er... fall off the couch?
Many of the vendors and exhibitors are sharing videos, live or otherwise, of their craft rooms, products and processes. This is a neat opportunity to get a glimpse into their lives behind the scenes, and to see the love they pour into their work.
Big shows like Yarndale are incredibly important to the viability of a craft business. They are a major source of income, promotion, and connection for each and every vendor. This year has been difficult to say the least, and the repercussions of lockdown threaten the very existence of many of our beloved craft suppliers. I hope you will take a little time to check out some of the wonderful
yarndale@home
vendors and exhibitors. Liking, following and sharing their work is equally as important as buying from them yourself. I'll be buying a few items (gotta get my knit on for winter!) and sharing as far and wide as I can, because I want these good people to succeed. I want to still be able to buy from them for years to come. I want them to be able to feed their families (human and animal alike) and keep a roof over their heads and sheep in their fields.
I ask you, dear reader, to do the same❤️
If you can't make it to the online event you can still meet, follow and buy from all the vendors anytime. It's a beautiful thing!
Without further ado, here are some of my personal recommendations from this year's line-up, based on having bought from them before, used their products, and/or met them in person: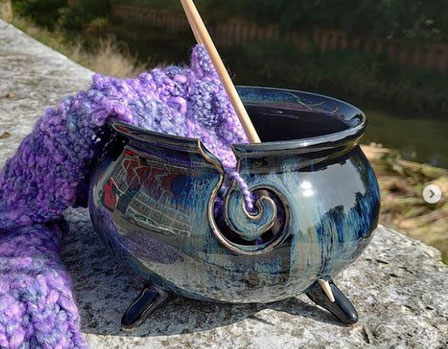 Emily Cross Ceramics
Em is a great personal friend. I own many of her products and I love them all! I'm the product tester for anything sewing-related that she makes. Her yarn bowls take pride of place in my home and are used almost every day. She and her hubby have been helping me out while I've been self isolating. Everything she makes has oodles of heart and personality.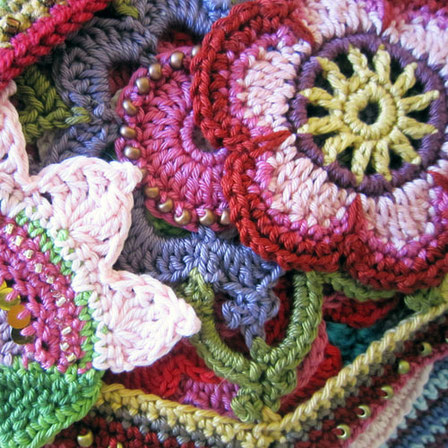 Janie Crow
This lovely lady's crochet patterns have kept me warm and entertained for the last three winters. I covet every new design she comes out with, and it was a huge treat-to-self when I bought her 'Mexican Diamonds' crochet blanket kit. I love how her designs challenge me, inspire me, and improve my skills.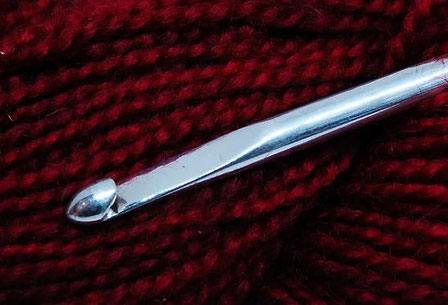 Lyn Roberts Design
Okay, Lyn's sterling silver crochet hooks and knitting needles are AMAZING. Her craftsmanship and attention to detail are second to none. I particularly love using her interchangeables, and find that they reduce strain on my hands over long periods of work. Beautiful, comfortable and personalise-able, Lyn's yarn tools are an investment in your future.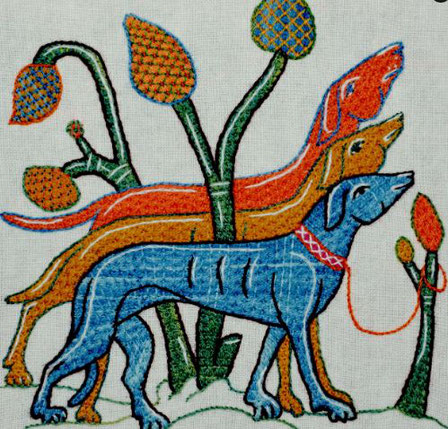 Opus Anglicanum
If you have an interest in historical embroidery, a wicked sense of humour, or both - you have to check this lady out! Knowledgeable and skilled, beautiful and sometimes irreverent, her kits and classes will give you a fresh view of life in the deep, dark past.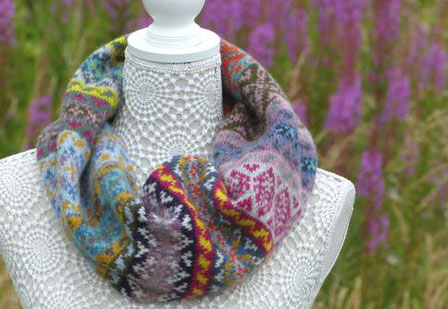 Wee County Yarns
Such. Nice. People. I love their Instagram page for its inspiration and its humanity. Questions about colour combining are openly encouraged. And OMG, the colours! The rainbow miniballs are possibly the cutest yarns I've ever seen. This winter I'll be making myself one of the gorgeous Pic'n'Mix cowls.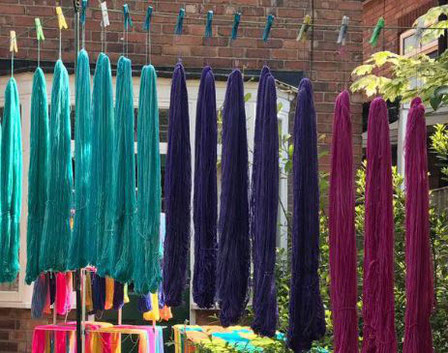 Truly Hooked
Verity's hand dyed yarn is a pleasure to work with. An avid sock knitter, she and her husband have produced a beautiful collection of original sock knitting patterns for you to make and love. So if you're buying a gift for a friend and don't want to risk choosing the wrong yarn colours, get the book!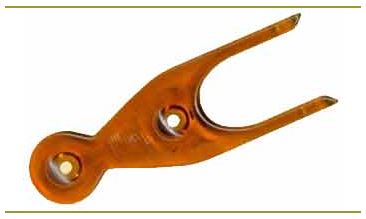 The Lucet Company
I am a long-time user of Ziggy's fabulous lucets. I have bought many as gifts for fellow crafters and craft-inquisitive children. Ziggy's love of lucet braid is infectious! This fun, peaceful pastime is both practical and creative. I use my plain braids for lacing corsets and other such menial tasks, but I like to challenge myself with multi-stranded, purely decorative designs too. It's a whole new world!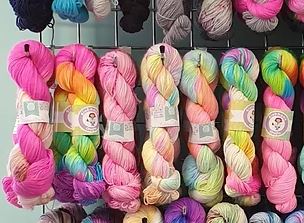 Siobhan's Crafts
Siobhan is a highly skilled, creative fibre dyer. She blimmin' LOVES dying yarn! And she loves to share that experience with you, too, with her yarn dying kits and supplies. Peruse her website for some seriously fun coloured yarns and fibres.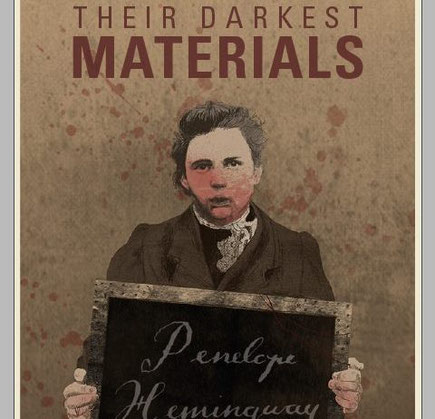 Their Darkest Materials
This last recommendation is the odd one out, because I don't know these people. They're totally new to me and honestly I love finding new and quirky things. And I love a bit of history with my crafting! So these books are going on my Christmas list...
P.S. I'm starting to gather Christmas gifts now, to spread out the cost of purchasing or making for others. While I dislike thinking about the C word before Hallowe'en, it might prove to be prudent!
P.P.S. While I'm not a yarndale vendor, I probably ought to promote my own wares a bit too, so don't forget you can buy my stick-on/wash-off embroidery templates, kits and washable cloth face masks from
www.virginiacrawford.co.uk
Follow me on instagram at
virginiacrawford.co.uk
too! Come and say 'hi' :)